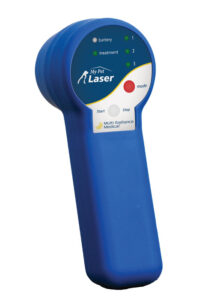 Take canine rehabilitation home with you! We are now offering at home laser units for continued care outside of our clinic. The Multi Radiance My Pet Class I Laser allows owners to relieve pet pain and accelerate healing in the convenience and comfort of the pets own home. This easy to use three treatment mode handheld laser can be used to help heal wounds or reduce pain and inflammation in your pet.
The My Pet Laser can be used for treatment of acute or chronic otitis, arthritis joint disease, degenerative diseases, hot spots, dysplastic joint pains, post operative healing, and much more. This is a great addition to advanced home care for additional treatments between visits or when traveling to our clinic is not an option.
How the Multi Radiance My Pet Laser works
Super pulsed photobiomodulation produces high powered light in billionth-of-a-second pulses. The power of each pulse drives the photons deep into the targeted tissue. Multi Radiance Medical technology creates a high photon density, strongly reducing pain and improving microcirculation.
Pulsed broad band infrared emitting diodes penetrate shallower tissue depths than the laser but provide a broader spectrum of coverage.
Pulsed red light penetrates shallower depths.
Static magnetic field keeps ionized molecules of tissue in a dissociated state, enhancing the body's potential to absorb energy.
My Pet Laser units are available to be rented on a weekly basis as well as for purchase. Contact our office for details and more information (860) 267-9191.